Welcome to Premiere Transport VTC!
Join today and you can earn an extra 500 miles on your first job logged!
Premiere Transport VTC Driver Guidelines
                    (The information below will cover both ATS and ETS 2 unless noted)                      
Contact us via E-mail – info@premieretransportvtc.com
On behalf of the management, thanks for leasing on with Premiere Transport(PTVTC). We look forward to see what a driver like you can do for the company. We are looking for responsible truck drivers like yourself to distribute products promptly to our customers. You will represent our company in a professional manner aiming at customer satisfaction. PTVTC is English Spoken Only.
Below is responsibilities, overviews, divisions, dispatcher for job reporting and other detailed information you will need to know as drivers for PTVTC. Please read it carefully and understand it before you report for work on your first day at PTVTC.
By leasing on with PTVTC you agree you are not leased on to or work for another company and to follow our guidelines that are listed below for safety and customer satisfaction. Any breach of this agreement is grounds for lease termination without notice.
Playing The Game
Only the Steam version of ATS and ETS2 is allowed to be used in PTVTC. We don't support pirated games plus they just cause a lot of issues.
Profiles- All new drivers…
-Start with a new profile when leasing on to PTVTC
-Make their home city in any city in the default map. PTVTC headquarters is Bakersfield,Ca
-Will be on a 5000 driven mile probationary period
–Quick Jobs- This is the only time quick jobs are to be used is when a new driver is hired.
IMPORTANT –***PTVTC is not responsible for your profile lost, deleted, corrupted or otherwise. If your profile is lost, deleted, corrupted you then must make a new profile and start over fresh but all your stats will remain.
Starting your first job
When you accept your first job you will be automatically placed in your truck and you off to deliver your first load. From this point forward you must pick up your next load in the last city delivered. There is no such thing as jumping from city to city in PTVTC even during the probation period for new drivers.     
At the end of your probationary period then you can start using your own trucks for deliveries modded or in game.
Multiplayer
MP jobs are accepted at PTVTC with a few important things to know.
-Your home city must be a city on the default map.
-You are our representative so we expect you to be polite and respectful to others.
-If you are using a modded map/truck then you must deliver a load to your home city(default map)first before switching to multiplayer. This will do two things.
  1)keep your logbook in line
  2)keep you from teleporting
Once in your home city(default map)save your game you should now be able to close SP and open MP and still be in your home city.
-Paintjob: No restrictions  
Opt Out Of Beta's
We recommend setting your game to "opt out of beta" to keep from messing up your PTVTC profile when SCS releases a beta. Specially if you're on a long Coast to Coast run.  
–To do this go to your game in your steam library>right click>properties>click the beta tab>and make sure "None-Opt out of beta programs" is in the first box>then close.
You may try the beta's on another profile
PTVTC Guidelines
Here at PTVTC you drive your truck modded or stock and use your own trailers modded or stock. But remember the freight in or on that trailer belongs to PTVTC customers and therefore damage must be kept at a minimum. There is plenty of loads to choose from so when and where is up to you.
At PTVTC we give you some room to grow and get to know how we do things here. We will assist you the best we can to make sure you understand how it all works. So as a new driver  you will be on probation for your first 5000 driven miles and must report 2 jobs a week. Use this time to get to know the system. If after this time you have failed to follow or produce any improvement we have the right to dismiss you from PTVTC.
We all get busy with real life stuff and sometimes can't find the time to play. At PTVTC we don't have a certain amount of jobs due each week(unless on "new driver probation")but we do ask that you report at least one job a month with approx. 900+ miles to be an active driver. Its your truck so run it when you want. But as a company we still reserve the right to dismiss anyone at anytime if guidelines aren't being followed such as improper job submission, no job submissions, disrespecting staff or other drivers etc.
Driver Responsibilities
Deliver a wide variety of items across North America and Europe

Plan routes and meet delivery schedules

Maneuver trucks into loading or unloading positions

Load, unload, prepare, inspect cargo's

Complete logs and reports jobs using the PTVTC dispatcher

Follow regulations and safety standards
PTVTC Full Skin or "Leased To" Signage
While signed on to PTVTC we do have a full truck skins that are available you can place on your vehicles. Or we have a "Leased To" signage that can be used if you'd rather where you own personal company skin(no public vtc skins allowed). One of these options needs to be on your vehicle at all times. We will need your truck info so we can get one to you asap or if you are a skinner we can send you the logo to be placed on your truck with your personal company skin.
The Dispatcher and Job Submitting
PTVTC has combined ATS and ETS2 dispatcher for drivers to fill out for each load they haul. Make sure you select the correct game when submitting. Your job is then recorded and processed by our staff. All jobs are pending until it is accepted or denied. If accepted all info will added to the company stats and to the leaderboard. If a job is denied then no stats will change.
Note: Denied jobs will have a "Reason" box that the staff will use to remark why a job was denied. We will give you a chance to give us the correct info before its 100% denied but if you can't provide the correct info then the status will remain.
How to use the dispatchers:
After you delivered your load by using the "T" button you will see your "Summary" with all the load info. At this time you will press your screenshot key (default is F10) to snap a pic. Click the "Submit Load" in the left menu and fill all required lines of the dispatcher and then click browse to navigate to your screenshot folder documents>American Truck Simulator>screenshot or documents>Euro Truck Simulator 2>screenshot. Choose your screenshot and click "open". When finished filling out the dispatcher click the green submit button at the top right. You're done.
Example of accepted summary screenshot
PTVTC does not accept screenshot of your "progress history" in place of a forgotten summary screenshot. This will end in a auto decline of the load.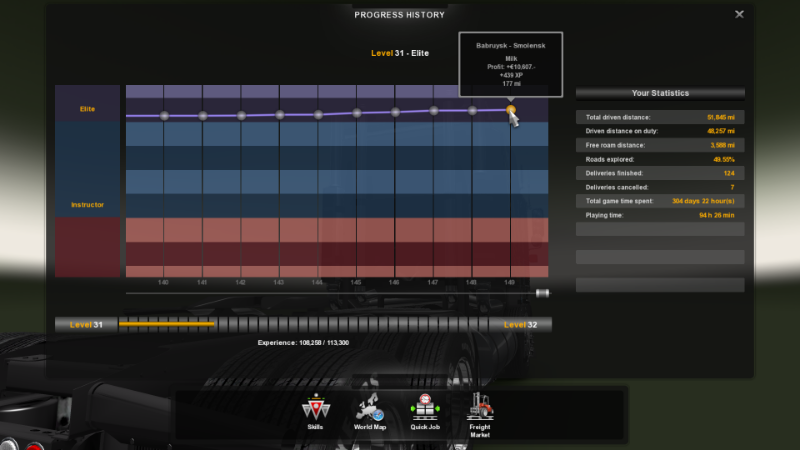 Divisions and Bonuses

Our customers freight is very important so getting it to its destination without incident is always a plus for you and the customer. Below is the definitions of bonuses you will receive for making good on your deliveries.
Divisions
  General Division: No Damage/On time=$50 and 50 miles. Damaged or late or both…no bonus

Reefer/Dry Van=up to 80,00/lbs

Flatbed/lowboy=up to 80,000/lbs

Container=up to 80,000/lbs

Tanker

non-hazardous

=up to 80,000/lbs
Specialty Division: These loads require more attention. Each load is different so read carefully.

Oversize=Longer/Wider than trailer-

80,001-95,000/lbs….No Damage/On Time=$300 and 300 miles. Damaged or late or both…no bonus.

Heavy Haul-

95,001/lbs or more….No Damage/On Time=$1000 and 1000 miles. Damaged or late or both…no bonus.



Tanker(hazardous)-Any weight…No Damage/On Time=$200 and 200 miles. Damaged or late or both no bonus.

Mods
(Please test mods before using on your PTVTC profile)
There are different mods out there so some prohibited and approved ones. We want the company stats to show real type income and to be fair for everyone. An economy mod that pays 5,6, even 10 times the amount is unrealistic.
Economy mods that inflate…
Prices in the job market are prohibited

XP are prohibited

Bank account prohibited
Economy mods that reflect real…
Fuel prices are approved

Hardcore gaming approved
Trailer mods-There trailer mods with our name on it to use but not required
no  restrictions at this time
Truck mods
No restrictions at this time

                           
Map mods
Challenges and Rules
This is where the staff has some fun and creates a challenge(s) for drivers to gain extra miles. It could be either an in game trailer or a modded one. We might want you to use a specific truck or a truck and trailer combo. It's just a fun way to gain miles on the leaderboard. When a challenge is ready drop we will provide all the details. If you're low man on the leaderboard you might want to step up and try to take the top spot.
Challenges are not mandatory and are only if you want to participate.

Do Not Use Quick Jobs

VTC rules are always in place during challenges unless noted. Meaning no jumping around to find the challenge jobs.

Challenges can be done on ETS2MP or SP

NO Mods are allowed that make the challenge easier for instance if the challenge is to deliver lumber or logs you CAN NOT use a mod that generates lumber or logs all the time. This isn't fair and we hope no one does this

We know if you have a lot of trailer mods in your game it might take over the vanilla(original in game)trailers so you may use a mod to complete a challenge as long it's not a mod as described above that generates only that load. We expect everyone to play fair.
DISCLAIMER: PTVTC has the right to edit these guidelines at anytime without notice. Its not our job to make sure you stay up to date on any new rules. If its a big change, we will let everyone know. But its your job to be checking the guidelines every week or bi-weekly.
SpeedyExpress – Owner

Dreamwhipz- Transportation Manager
Sweone- Transportation Manager
Last Edit: January 3, 2017 – 10:10 AM